We finance high-ticket PRODUCTS & services.
Introducing a new financing solution for coaches, consultants, and online course creators to help you expand your reach, make a bigger impact, and enroll more clients.
WE FINANCE HIGH-TICKET COACHING SERVICES.
WE FINANCE HIGH-TICKET COACHING SERVICES
Now you can finally overcome the #1 objection you face in your coaching, consulting, or training business: Price.
WHAT OTHERS ARE SAYING ABOUT COACH FINANCING...
What Others ARE SAYING About Coach Financing...
Brooke Elder
Social Tenacity

Dino Gomez Dynamik Internet Marketing Inc.
Used By Over 1,000 Coaches, Including...































NEED MORE REVENUE? OFFER FINANCING FOR YOUR COURSES, COACHING, OR CONSULTING SERVICES - FROM $1,000 TO $50,000.
Enroll More Clients & Sell Higher Ticket Programs.
Make your coaching program more affordable by offering financing to your clients with payments over 12-60 months with zero prepayment penalties. Reach a wider audience and enroll clients into your higher ticket programs to better serve them.
Your clients enjoy the benefits of your coaching program with affordable monthly payments and you get paid upfront and in full.
Make a bigger impact & expand your reach.
Coach Financing helps you live your mission and make a larger impact by providing your clients with a new way to invest in your services.
Reach new audiences and transform more lives with your message by making your materials more affordable to more people through financing.
The End Of Chasing Payments.
With Coach Financing, you'll spend zero time chasing payments and have more time to deliver value to more clients. If you are self-financing, you already know the challenges involved with having to collect payments every month, not to mention the cash flow issues this creates for your business.
Our financing solution eliminates the headache of chasing payments, you have zero liability for defaulted loans, and we do all the work of collecting loan payments.
Access To Your Funds Within 48-72 Hours.
We understand that generating new revenue is critical to growing your coaching business. But when you self-finance your coaching services, it's hard to predict your cashflow due to non-payment, expired payment methods or defaults.
When your clients use Coach Financing to pay for your coaching or consulting services, they receive their funds within 48-72 hours via direct deposit. They can then pay you in full for your services. Our financing is fast, easy, and helps drive more revenue into your business.
End Credit Card Stacking.
Some coaching clients resort to stacking current credit cards, or they apply for (multiple) new cards in order to pay for the coaching they need for their business and/or life. This not only impacts their credit score negatively but can also lead to very high-interest expenses over time, potentially putting your clients in a tough position financially. (Also known as loan stacking.)
We offer a simple financing solution that provides your clients with fair rates over a fixed term. Zero surprises. Zero pre-payment penalties. Just fixed monthly payments they can afford.
How Much Revenue Are You Missing?
Use the calculator below to determine how much revenue you are leaving on the table by not offering financing to your clients.
Introducing Our 100% Financing Solution...

The optional Elevate upgrade is available to qualified Coach Financing customers who meet the monthly revenue requirement. Never lose a high-ticket sale again. With Elevate…
We are the first and only company to offer this financing solution to coaches, trainers, and product creators.
Introducing Our 100% Done-For-You Solution...

The optional Amplify upgrade Coach Financing customers who generate over $75,000 per month in revenue. With Amplify…
Coach Financing Payment Calculator
Use the slider below to determine your client's monthly payment.*
* The monthly payments above range from great to average credit. Challenged credit will have higher monthly payments. Loans from $1K to $3K based on 24 month terms. Loans $4K and above based on 48 month terms. Actual monthly payments may be lower or higher depending on your client's credit profile. For example purposes only.
Monthly Payments
Range From:
Use slider below to adjust
cost of your service.
COach financing payment calculator
Make paying for your services easier & More affordable for your clients.
Monthly Payments
Range From:
Use slider below to adjust
cost of your service.
* The monthly payments above range from great to average credit. Challenged credit will have higher monthly payments. Loans from $1K to $3K based on 24 month terms. Loans $4K and above based on 48 month terms. Actual monthly payments may be lower or higher depending on your client's credit profile. For example purposes only.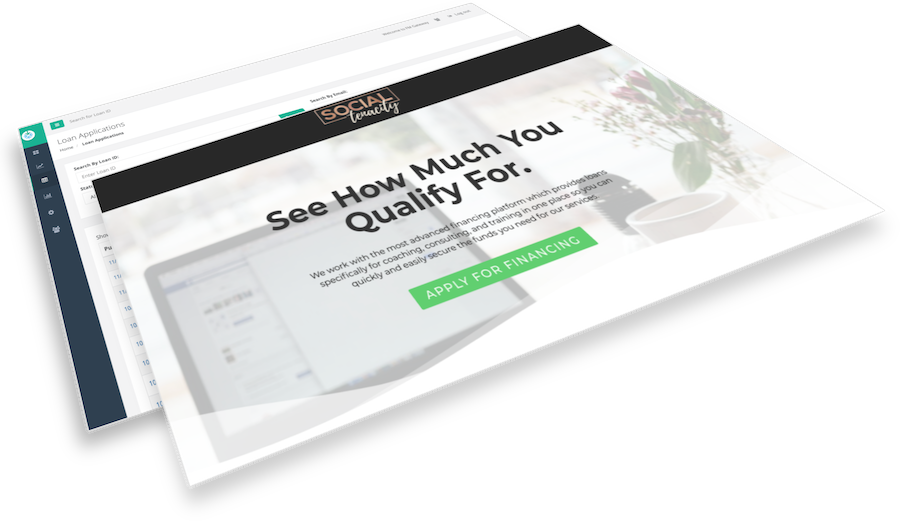 When you enroll today, we can have you up and running within 2 to 3 business days.
Enrollment: $495 one-time set-up.
Monthly: $49.95 (starting your 2nd month.)
Fees: 5% of funded loans.
Have questions? Please refer to our FAQ below that addresses the most common questions others have. You may also contact us or use our live chat option during normal business hours (M-F 9-5 CST).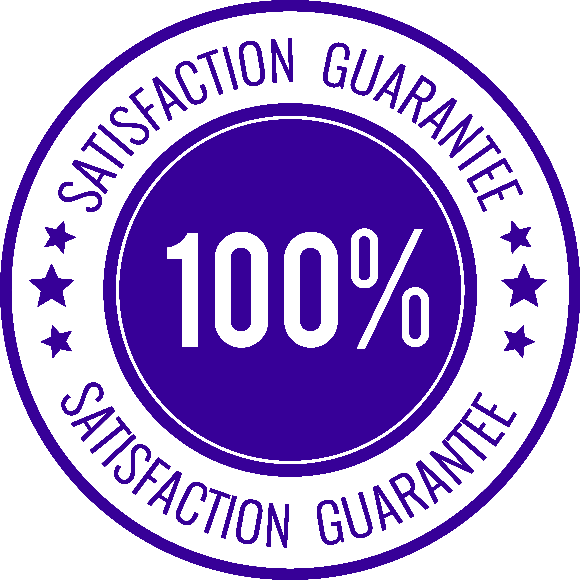 Zero Risk Guarantee: Coach Financing is backed by our 30-day 100% satisfaction guarantee. If for any reason you feel that Coach Financing isn't right for your business, simply let us know and we will refund your purchase in full.
Frequently Asked Questions
What happens after I enroll into Coach Financing?
We get to work on setting you up in our system. The process takes 2 to 3 business days. Once your landing page and back office (to view all loans in real-time) is live, we will schedule a Zoom with you to go over your landing page, back office, and answer any questions you have. After our Zoom training, you are live and you can start using your custom landing page right away to begin enrolling new clients into your offers. We are always here to help you any way that we can.
How long does it take to go live after I enroll?
The onboarding process typically takes three business days to set up your website and back office. The one item we will need from you is your logo (which we will get from you via email after you enroll) which you would like on your custom financing page.
How much does it cost me, as a coach/trainer to finance my product/service?
We keep everything simple. Our fee is just 5% of the loan. That's it.
What does the 5% loan fee cover?
The 5% fee of the loan covers the cost of our lenders, platforms and API integrations, credit pulls, reporting, and the risks of financing coaching. You are only charged the 5% fee after you have received your funds from your client.
Am I charged the 5% fee of the total loan amount?
You are only charged a 5% fee on the funds you are paid from your client. For example, let's say you are selling a $5K package. Your client applies for financing and gets offers ranging from $5K to $20K. They take a $10K loan, pay you $5K, and use the remaining on another purchase. At the beginning of each month we provide you a list of funded loans through the protal we provide you with. You let us know the correct amounts you were actually paid. (It's an honor system.) You are only charged 5% of the amount you receive, not the total loan amount if a client takes a larger loan. You are also not charged a 5% fee if a client takes a loan and for some reason decides not to purchase your coaching.
Am I responsible for the loan if I have a client who defaults on their loan for whatever reason?
With our traditional Coach Financing program. our loans are non-recourse, meaning we (our funding partners) are 100% responsible for collecting the monthly payments, not you. Once you receive your money (within 48-72 hours), it is yours. There are zero chargebacks.
What are my client's rates and terms for Coach Financing?
For our Direct Funding solution, rates start as low as 9.99% and up. Payback terms are up to 60 months, depending on your customer's credit profile. Rates are fixed, not variable like a credit card, saving your customers money. Loans can be paid off anytime with zero penalties.
What is "Elevate"? Is it really a 100% guaranteed financing program?
Yes it is. We are the FIRST in the coaching/consulting/training markets to offer a true 100% financing solution, regardless of credit. This includes financing for those who do not own a credit card or have severely damaged credit. With Elevate, you can close 100% of your clients - even if they were denied traditional financing. It is the best of the best back-up solution if you have any clients who were unable to get approved through our traditional financing solution. This optional upgrade is exclusive and only available to coaches who qualify and meet minimum monthly revenue requirements. Elevate requires separate bank approval with time in business and cash flow requirements.
I sell an online course for $1,000. Can I use Coach Financing to offer financing to my customers?
Yes! We will finance online training and courses (in addition to events, masterminds, one-on-one coaching, group coaching, consulting, and retreats).
What countries is Coaching Financing available in?
Right now we are only available in the United States.
Do my clients need a perfect credit score to obtain financing?
We have multiple solutions to help your clients obtain the financing they need across ALL credit profiles.
Ultimately there is not a way to determine if someone will be approved or not based on credit score alone. The various lenders we work with have their own criteria. However, collectively, they all look at:
- Credit score
- Debt to income ratio
- Employment history
From there they look at the amount requested, their location (some lenders only work in specific states), and many other factors.
Given the diverse lender relationships across our network, we partner with lenders that provide financing to consumers with very challenged, good, and great credit to help you enroll more clients.
Additionally, we have a NEW program for those with highly challenged credit and even no credit where we can finance 100% of your customers. All Coach Financing customers have access to this new program at no additional cost.
I process over $75,000 per month. Are there any special programs for my business?
Yes. For those who generate $75,000 per month or more in sales, Coach Financing can be your complete done-for-you financing solution to help you close more deals. Our Amplify program is an optional upgrade where you are provided with a dedicated team who will personally work with any clients who were denied (due to more challenged credit) and assist them in obtaining financing through our secondary network of financing partners. Amplify is for coaches who have at least $75,000 per month in revenue and have been in business for at least one year.